The innovators from Canada are taking over the Shipyard this year – Voivod will perform on the Shrine Stage, Away will show his fantastic works in our underground gallery, and on top of that, the band has recorded the official anthem of the festival. "Chaotic Harmony" released on vinyl will be available in a strictly limited edition exclusively at Mystic Festival 2023.
Chaos and harmony all rolled into one – can there be a better way to describe the specifics of a metal festival? Voivod with their sound and words capture the feeling of madness and joy we will all succumb to on June 7.
Living in a restricted area
Open the gate of hysteria
Having fun is mandatory
Beyond this point…
We are proud and thrilled to announce that the legendary Voivod has recorded the anthem of Mystic Festival 2023! The music is the creation of the entire band, consisting of: Denis "Snake" Bélanger (voice), Daniel "Chewy" Mongrain (guitar), Dominic "Rocky" Laroche (bass) and Michel "Away" Langevin (drums). The lyrics were written by Snake.
The song was produced by the band, and Francis Perron, whom Voivod visited at RadicArt Studio, Quebec, was responsible for the recording and mixing. The lyric video was created by Marcin Halerz, based on a graphic design by Łukasz "Pachu" Pach (with additional creative input from Away).
"Chaotic Harmony" will be released on vinyl in a strictly limited edition – 333 black / 333 smoke / 333 sunburst. The 7-inch EP will be available at the festival's merch booths, as well as Mystic Production and Knock Out Music Store booths. Be warned: there will never be a reissue of "Chaotic Harmony" – once the single is out of stock, it will only be available online.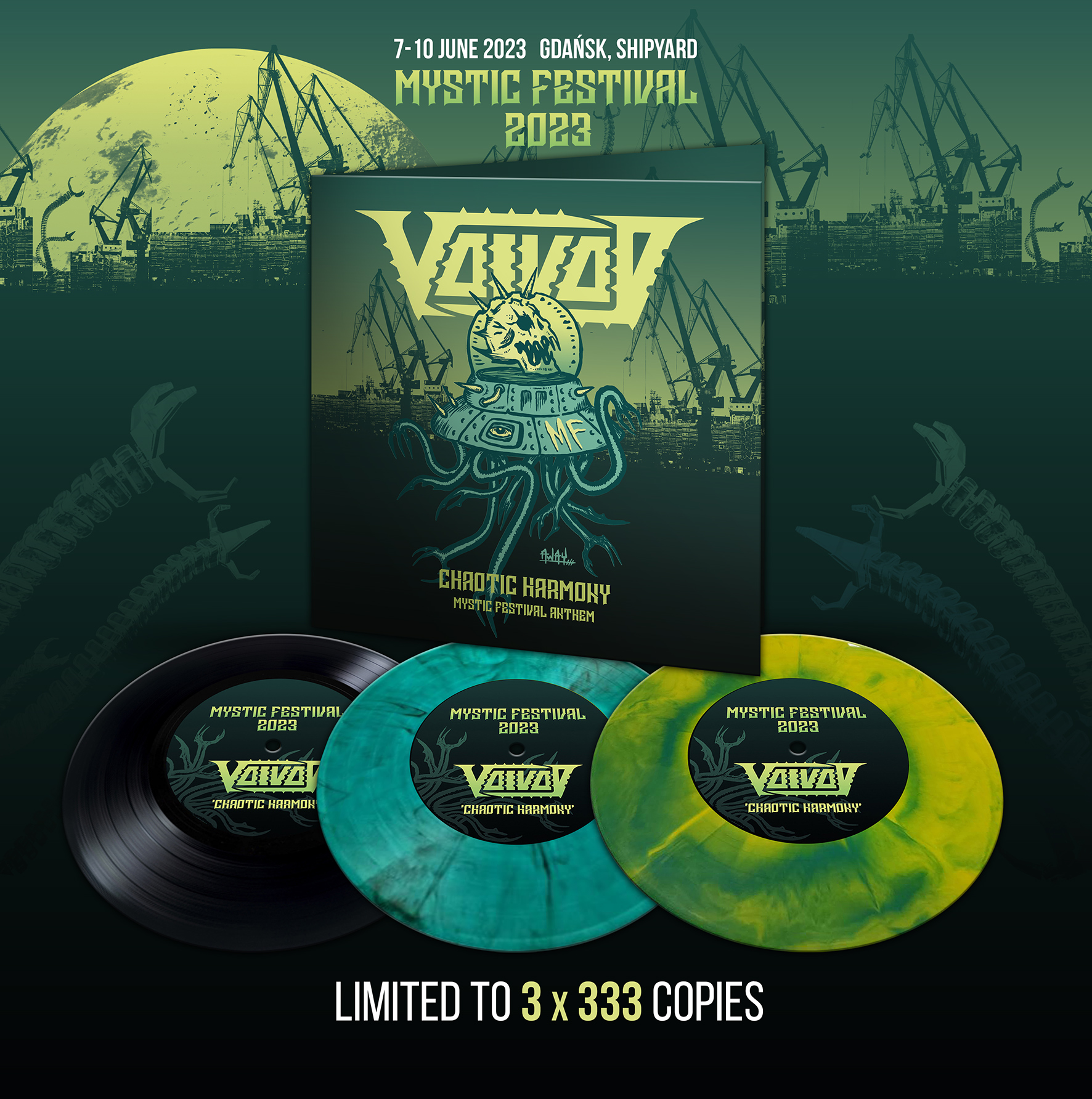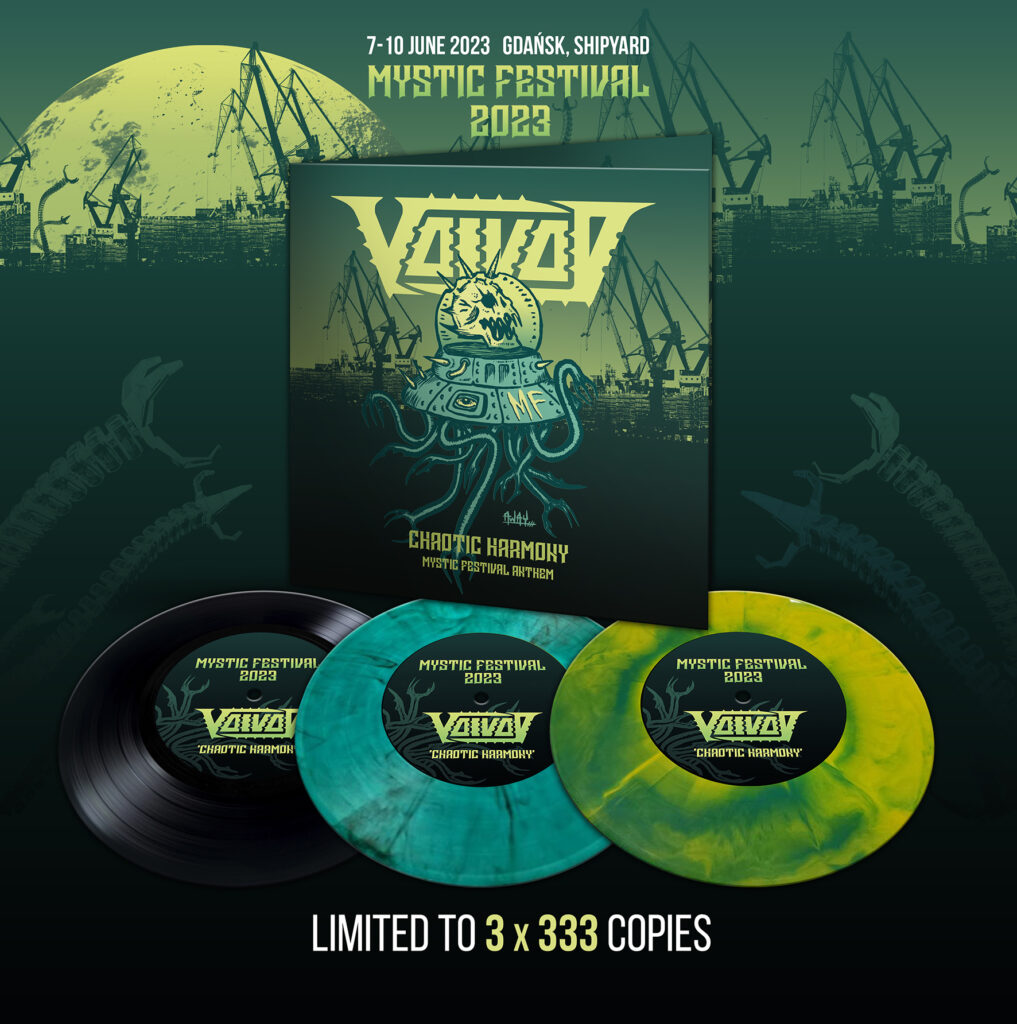 We want to develop the idea of unique Mystic Festival anthems with each successive edition of the festival. We would like to remind you that "Behold Our Power", the anthem of the previous edition, was created and recorded by Matthew K. Heafy, the leader of Trivium, and featured guest vocals by Chuck Billy of Testament.
Emergency! Intensity
Something happening to me
Security! Just set me free
The crowd will take care of me
Voivod fans – and visual arts fans – are in for another treat. Away, Voivod's drummer and a true visionary artist, will show his works at the festival.
– It was a great surprise when Voïvod received the invitation to perform at the fantastic Mystic Festival in Gdańsk, Poland on June 10th 2023. It was an even greater joy and honour for me when I was offered to exhibit my artwork at the festival! For the occasion I decided to supply art from 1979 to 2023, showing various explorations in styles over decades. See you at the exhibition! – said Away.
Voivod will land at Mystic Festival 2023 on Saturday, June 10, at 7:30 pm on the Shrine Stage.
More than 90 bands will perform at the Mystic Festival 2023, including Ghost, Danzig, Gojira, Meshuggah, Behemoth, Electric Wizard, The Hellacopters, Testament, Dark Angel, Watain, Moonspell, Perturbator, Exodus, Dismember, Voivod, Alcest, Sleep Token, Unleashed, Carpathian Forest, Grave, Soen, Phil Campbell and the Bastard Sons (with a Motörhead set), Godflesh, Primitive Man, Earthless, Mad Sin, Lucifer, Antimatter and Greg Puciato.

Mystic Festival 2023 will take place June 7-10 in Gdansk, at the Shipyard area.