Mystic Festival is all about music. Some of the biggest stars in and around metal have already performed under this banner, including Iron Maiden, Judas Priest, Slayer, King Diamond, Slipknot, Nightwish and Celtic Frost. We host both living legends and the hottest phenomena of the season. Mystic Festival is also a unique space in the Gdansk Shipyard. We have five music stages – open-air and indoor – as well as a cinema, exhibitions, and a venue for meetings and debates. There is also a foodtrack, craft beer and entertainment zone where you can relax in between concerts. Mystic Coalition is an alliance of companies with rich experience in the concert, festival and publishing industries, comprising Knock Out Productions, Mystic Production, and B90.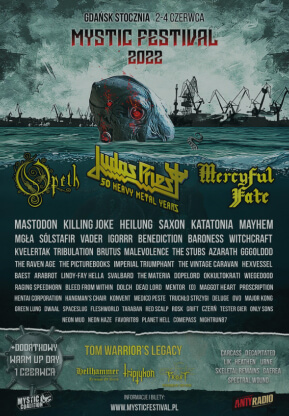 2-4.06.2022 (+ Warm Up Day 1.06), at the Gdańsk Shipyard, Poland, on five stages (Main Stage, Park Stage, Shrine Stage, Desert Stage, Sabbath Stage), performed, among others: Judas Priest, Mercyful Fate, Opeth, Saxon, Katatonia, Tom Warrior's Legacy (Hellhammer performed by Tom Gabriel Warrior's Triumph Of Death / Celtic Frost / Triptykon), Carcass, Mgła, Mastodon, Igorrr, Heilung, Mayhem, Vader, Benediction, Sólstafir and more.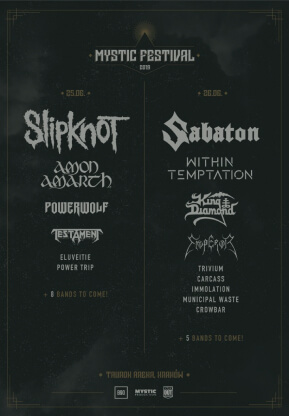 25-26.06.2019 at the Tauron Arena in Krakow, Poland, on three stages (Main Stage, Park Stage, The Shrine), performed, among others: Slipknot, Sabaton, King Diamond, Within Temptation, Emperor, Carcass, Amon Amarth, Testament, Possessed, In Flames, Powerwolf, Soulfly, Hatebreed, Trivium, Immolation, Vltimas, Crowbar, Omnium Gatherum, Batushka, In Twilight's Embrace i Power Trip.